Vinyl, The New Hardwood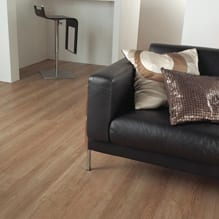 VINYL. Yes, vinyl. It's the new hard wood. In fact, it's better in every way: function, maintenance, aesthetics. Yes, I said aesthetics. Hard to believe until you start looking at the product out on the market. This is not your mother's vinyl. In fact LVT (luxury vinyl tile, in industry terms) is the hottest commodity outpacing every other genre in the market.
Annette Callari, Allied ASID; Chair Holder Color Marketing Group International, says "If you are in the floor covering industry, you already know that LVT is giving porcelain tile, hardwood floors and natural stone a run for the money.  Consumers have found a user-friendly floor system in LVT that gives the authentic beauty of natural materials, but at a more economical cost–and without the care and maintenance headaches."
LVT can be replicated in almost any genre including woods, stones and tiles. Through engraving, the surface texture and distressing results in beauty you can see and feel.  In fact, at first glance, experienced designers have difficulty deciphering whether it's the real thing or LVT.
In terms of functionality, how do these floors stack up to their counterparts? Annette says, "The urethane coatings protect the floor from spills, scratches, scuffs and soil.  Damp mopping with a low pH cleaner is all that's needed.  The floors have a low-sheen finish that never has to be reapplied.  It's a performance product that simplifies floor care to the extreme.  Beach and desert communities love the product because it can stand up to tracked-in sand. Let's see hardwood floors do that.  I could give you a ton of technical specifications to back all this up, but let's keep it simple.  This is a discovery you need to make for yourself.  I predict you will be astounded and ask the question:  why haven't I found this product sooner?"
Watch for the latest in LVT coming to Interior Surface. Visit us at www.interiorsurface.com and we can get you into vinyl!