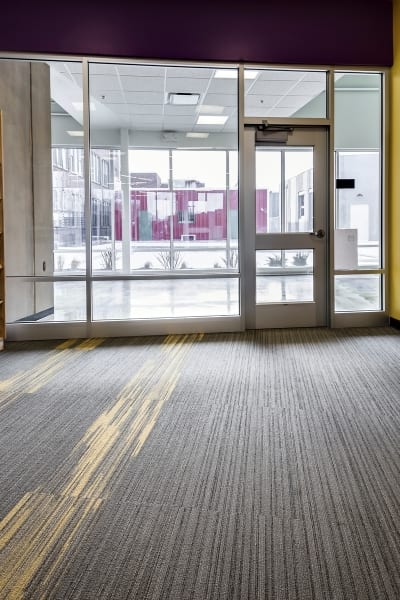 Starnet Flooring Design Awards Entry: DeLaSalle Education Center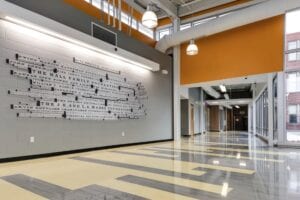 As an alternative to a traditional high school, DeLaSalle Education Center serves as "A tuition-free, charter high school in Kansas City. DeLaSalle gives students who are underserved a chance to improve their learning and life skills, stimulate their potential, and fulfill their promise."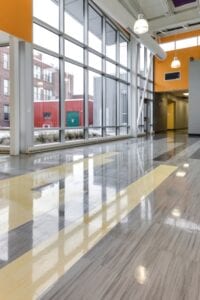 Giving students a more modern school setting, DeLaSalle educates while revitalizing the neighborhood. This project has created quite an impact on the community and has received a nomination for the 2014 Cornerstone Award, presented by the KC Economic Development Council.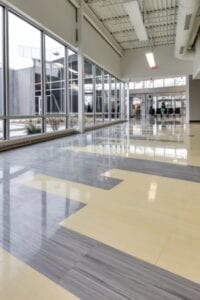 Named after a community leader and Co-Founder of DeLSalle, the new Norman O. Sanders Wing features upbeat bright colors of carpet tile complemented by the neutral tones of Armstrong Striations.  Striations, an eco-friendly bio-based tile, is used in the hallways and classrooms to promote good indoor environmental air quality.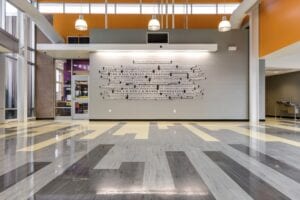 Another eco-friendly option, Johnsonite hammered rubber flooring, is used in the Early Education center.  This product was selected for its durable and functional multi-use ability. To soften acoustics, carpeting is used in the Library and offices.  Pulling together all spaces of the new wing, the designers chose a linear pattern that fades in and out, mimicking lines from the pre-existing structure.  DeLaSalle's new design and refreshed façade is expected to make its students proud while engaging the surrounding community.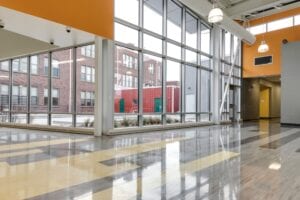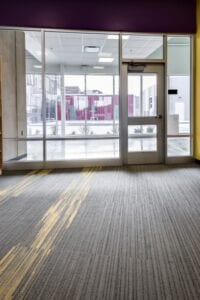 The Architect on the project was HLM Architects and the General Contractor was JE Dunn Construction.
Photography by Chad Jackson.