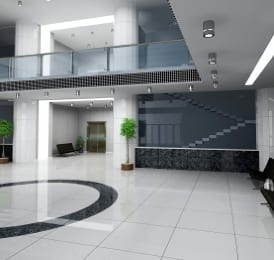 Narrow Down Your Commercial Flooring Choice
If you are considering updating the flooring in your office, here is a quick reference for the top 5 most popular commercial flooring options. Hopefully this will help steer you in the right direction!
Hardwood Flooring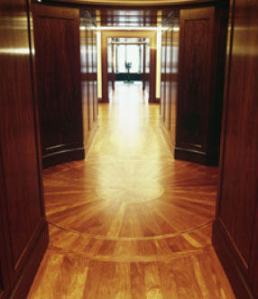 Easy to clean: Hard wood floors are very easy to clean as they do not accumulate a lot of dirt, dust, and debris. A weekly cleaning procedure involves vacuuming, moping and keeping the floor dry. That's it!
High quality look: Hard wood floors give an elegant aesthetic and high-end look. Hard wood floors offer the warmth, beauty and value of wood and it never goes out of style. Hard wood floors are also said to enable a look of spaciousness wherever they are installed.
Strength and durability: High quality hard wood floors that are kiln-dried, manufactured, installed and finished to certain standards can last for generations. The hard wood floors are tough, hard-wearing, and have long term durability. They can stand up to active workspaces and heavy foot traffic.
A Good investment: Choosing hard wood floors increases the value of your property. It is a great long-term investment and can actually become a strong resale argument, exceeding the initial installation cost of the floors. It also enables a faster sale and brings higher prices at the time of resale.
Refinishing: In areas of heavy traffic, hardwood flooring can be refinished after years of wear to bring it back to life.
Carpet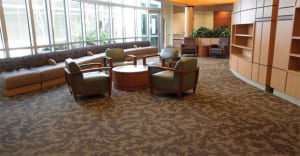 Economical: Commercial carpet tiles are a budget friendly floor covering. Our commercial carpet tiles are factory overruns, discontinued, irregular and overstock items making it possible for us to sell them at 50% to 75% off retail pricing.
Quality Construction:Commercial carpet tiles have been used in airports, hospitals and office buildings for years. Their heavy duty backing and quality construction ensures that they won't unravel with use.
High Traffic Areas: Commercial carpet tile is designed to take the abuse that comes with high traffic areas. Durability is key when choosing a flooring product for your commercial space. Our commercial carpet tile is high quality and professional grade.
Durability:If your commercial space gets lots of foot traffic, you can extend the life of your commercial carpet tiles by rotating them through the space. Simply move commercial carpet tiles from heavily trafficked areas to less trafficked areas to extend their life span.
Vinyl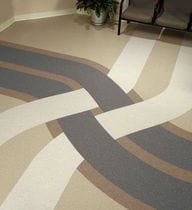 Design flexibility: Vinyl sheet flooring and tile are available in myriad styles and colors. Vinyl tile is available in shapes that can be custom cut and laid out in patterns using different colors or finishes. Tiles can be arranged, for example, to depict a corporate logo or to guide traffic in a hospital or retail setting. Virtually any look can be obtained to suit any decor, including classic looks that simulate wood and ceramic. Custom-made designs are easily created using sheet vinyl flooring.
Resilience: Vinyl flooring reduces noise and provides comfort underfoot. Unlike such hard surfaces as wood, laminate, terrazzo or ceramic tile, vinyl floors have "give" and thus are referred to as "resilient" flooring.
Durability: Vinyl flooring is durable and time-tested, maintaining its beauty under heavy foot traffic and use. It is moisture and stain resistant, so spills can be easily removed. When compared with alternative materials, vinyl offers an attractive installed cost with economical maintenance over the life of the floor.
Aesthetics: Today's vinyl floors are made to enhance the aesthetic features of an interior environment. While often mimicking the look of other hard surfaces, they are "warmer" than ceramic tile. Designers can use pattern and color to make a large room seem smaller or a small room more expansive. And since vinyl is durable, the color and original appearance will last longer with routine maintenance.
Safety features: A wide range of both tile and sheet vinyl floors are available with enhanced slip-retardant surfaces. These floors are suitable for a variety of commercial and institutional applications. Because they are vinyl, these slip-resistant surfaces can be easily cleaned. Check with manufacturers for vinyl floors designed to meet other special needs like static control.
Concrete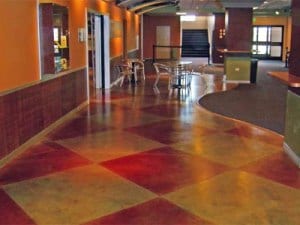 Long Term Durability – Concrete floors have increased abrasion resistance and they don't scratch, peel, chip, or yellow.
Low cost maintenance – Since you do not have to wax concrete or apply a coating, there is little maintenance to be done.
Safe Floor – Concrete flooring is one of the safest flooring choices for commercial buildings. Because they hold up better and can withstand high traffic, it is institute (NFSI) certified as "high traction"
Tile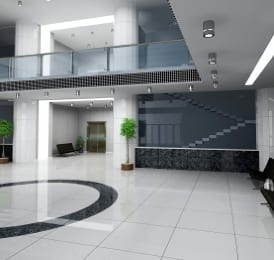 Durability: Tile is one of the most elegant and durable flooring options that you could use in a commercial space.
Replacement: depending on the type of tile you use in your commercial space, you can often replace certain areas of the floor rather than replace the entire floor.
Maintenance: You will have to maintain a tile floor. Retaining the gloss by waxing the vinyl floor tiles with floor waxes is helpful, too, as well as regular sweeping and scrubbing of the flooring.
I could go on and on about pros and cons between different commercial flooring options. I hope this has served to inform and narrow down your commercial flooring choices. If we can help clarify or speak into your flooring options please don't be afraid to contact us HERE