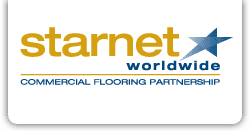 ISE's Membership with Starnet Worldwide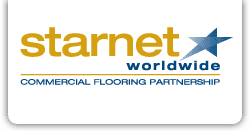 Interior Surface is a proud member of Starnet Worldwide, and we have recently been
selected as one of the winners of their Commercial Flooring Design Award Winners!
Starnet Worldwide is the largest commercial flooring partnership in the United States. Our Starnet partners allow us to bring you the highest quality products in the marketplace today. By limiting membership to the most knowledgeable, professional contractors in a given market, Starnet ensures that they will remain on the cutting edge of flooring. With $2 billion in annual sales, Starnet is the single most influential force in the contract flooring industry, and we are proud to be affiliated with such a fantastic commercial flooring partnership.
To learn more about Starnet Worldwide and the products they provide, click here.