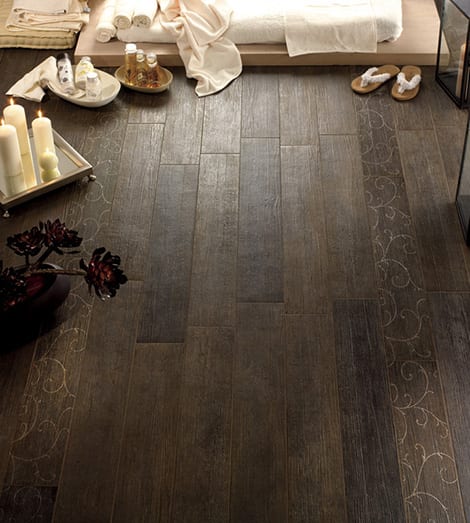 Ceramic Wood V. The Real Thing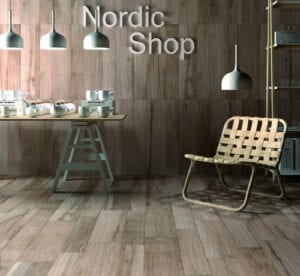 Someone once said, "The lines between fake and real have gotten really blurry." They were talking about faux fur at the time. So, if we can make a fur look so real that wealthy wives are buying fake over the real, manufacturing can do just about anything. It's understandable why someone would want a fake fur over a real one, especially an animal lover. But if you were installing wood, why wouldn't you just go for the real deal?
Let's just do a test:  which of the wood floors here are fake and which are real?
OK, you were tricked because they are all fake! Yes, every one of them. If ceramic can be made to look like wood, what's the advantage?
All one has to say is the dreaded chips, nicks, and scratches with wood that you won't have with tile.
While wood can expand or crack in wet environments, tile resists moisture, allowing a wood look on decks, around pools, or in baths or kitchens.
You can make those planks as wide and/or long as you want without paying out the wazoo. Modern looks call for wide planks, but let's face it, those wide planks don't fit within every budget. With tiles you can easily get widths of 8″, 12″, 16″, or even 20″.
With tiles you can have radiant heating, anything else is just blowing warm dust around your house.
Tile is super easy to clean and maintain.
Tiles stay cool, which is a blessing over summer months or for those who live in warm climates.
There is a downside:  tiles provide for less noise insulation (although cork underlayments and other under-tile insulators are available) and provide less comfort for those who are standing for long periods of time, although comfort mats are always an option. It's also a good idea to keep a few extra tiles just in case you need to replace a chipped tile and the line of tiles you've bought is discontinued.  Be super careful about your grout color; if the color is off, it will make it obvious that it's tile right away.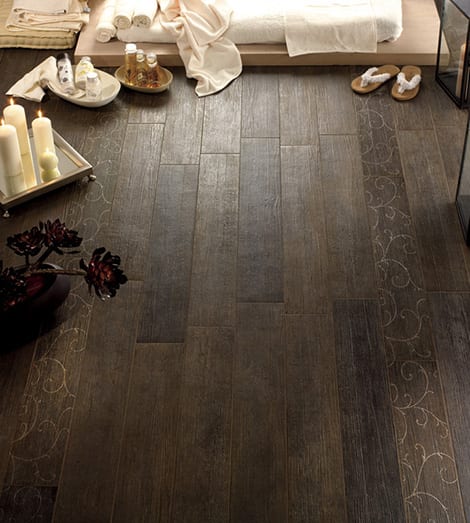 Which do you prefer the real thing or fake and why?